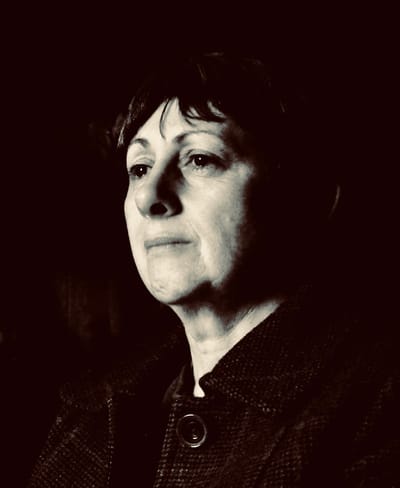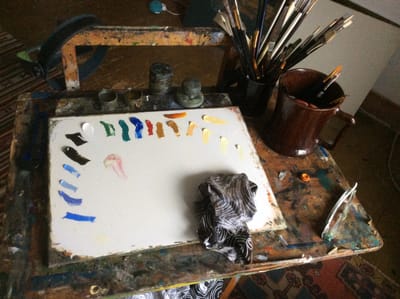 Jill Swarbrick-Banks
Professional since 1992
Lyrical AbstractionPortraitureGenré
Medium:
Oils (traditional practice)
Studio:
Cornwall, UK
Born
August 1959 London
Education
Baccalaureate Degree
Fine Art PaintingAcademie Minerva. Groningen. The Netherlands. Graduated 1992
Master of Art
Post Graduate Degree Fine Art PaintingSchool of Art, University of Aberystwyth, Wales. Graduated 2019
(distinction).
Artist in Residence to Coventry Cathedral 2012, the 50th Jubilee Year of the new cathedral
Commissioned initially to paint the portrait of their Dean, The Very Reverend John Irvine.
Dean: 2002 - 2012
The portrait hangs in the provost's vestry in the cathedral.
During my year at Coventry, I accomplished several projects including abstract oil paintings inspired by and in celebration of the 50th Jubilee consecration of the new Cathedral designed by (Sir) Basil Spence.
The stained glass especially the Baptistry Window by John Piper, the magnificent and affecting tapestry of Christ by Graham Sutherland and the bombed out ruins adjacent will remain with me always.
A most enriching and enjoyable experience.
Inspiration and Methodology
Since graduating in 1992 I have concentrated on developing my painting practice namely within (21st century) Lyrical Abstraction. Combining my own investigations and quirks alongside a fairly traditional technique working from dark to light. Originally trained as a portrait painter and " all-rounder", during my Masters I felt the need to open right up to take huge risks but also to elevate working with oils to a higher spiritual level, to try and actually create an atmosphere within a painting. Rather akin to looking into a clear running chalk stream, under the reflected surface of lights from the sky, sun, etc into the rippling down into and through the water and the geology and all life within it. My job is to transport you into another dimension.
A breakthrough came by studying Claude Lorrain, Richard Wilson and J.M.W. Turner and most definitely, living rurally in the Dyfi valley in Mid Wales. Its unspoilt terrain unique wildness and space was very affecting.
Breaking free from the urge to produce accurate reproductions, I began to explore painting mood and memory of landscape. This change of direction was greatly enhanced by a friendship with a classical musician who introduced me to Stravinsky, Messiaen and Pärt, more recently the work of Philip Glass and British folk music is very inspiring. "Minimal" music is used to create an atmosphere in the studio, from sound a painting gradually emerges and evolves analogous to a movement in music...
After the initial preparation of the substrate, I focus on blank white canvas, on silence and stillness. Within this mediative state, a memory of place might come to mind: a comment, a photograph, poem, book, a bird's song or indeed a piece of music. Rich ideas choose colour-ways and suggest a direction.
I rarely approach the canvas with a preconceived plan preferring atmospheric residue from the "root-source" to start forming the embryonic painting. The senses also play an important role, aroma; especially of turpentine and linseed oil . The careful ritual of laying out my palette offers a sense of security, a base.
Over the years, painting has gradually become a transcendental state, almost a compulsion. I often feel as if I am channeling something... in control but wide open to notions and accidents.
I take painting very seriously, I use only oils. I feel that oil paint has an integrity that other mediums cannot replicate. I feel a conduit for something that exists beyond death. I have no conclusion or narrative (usually) in mind: the painting dictates its own path and there is much stopping and observing in silence as there is in actual painting time. At a given point I instinctively understand it is time to stop. It then exists on its own without my involvement and I can break free. Only then do I attempt to understand the work. A title will come to mind and it has its own identity at last.
I consider paintings to be visual seeds of suggestion, aids to open channels via colour and form in paint that might lead and irrigate a more lateral comprehension of existence.
Style and Technique
I have had many inspirations over the years and like most painters, I have bent my back attempting to find out how the Old Masters actually produced alchemy! Copying, studying reference books and visiting exhibitions with my nose almost on the canvas. You can have "little accidents" moving paint around miraculously explaining a quirky "curved-ball' technique which is always tremendous fun. My practice began with Franz Kupka and then on to a serious fad for Graham Sutherland. Rembrandt's self portraits became an absolute addiction while spending ten years living and working in The Netherlands and my last years have been an obssessed with the late landscapes of fellow Londoner J.M.W. Turner. Turneresque has been a very flattering comment on some of my large oils and although I have honestly made no attempt to replicate Turner directly something might have rubbed off on me technique-wise? I couldn't say...
I prefer the term Lyrical Abstraction for my landscapes. It has a sort of gravitas and hopefully stimulates intrigue and mystery.
Commissions
I am usually contacted for painting portraits and buildings although I am open to work on all sorts of projects. I enjoy discussing all sorts of projects with clients specially free ranging commissions. This might be a person, a poem, a memory, book, event or a piece of music...
I work in oils but I am very happy to offer work in other materials if required.
Back Catalogue
Although most of my work is privately commissioned and collected, I have publicly exhibited in the Netherlands and the UK since 1992 most notably Galerie Pictura in Groningen - the oldest gallery in the Netherlands and most recently Clare Hall, Cambridge University where the Head of the Art Committee is Professor Frances Spalding CBE, FRSL.
Private Tutor
Fine Art Painting and Drawing: Portraiture, Landscape, Genre, Abstraction.
All levels.
One to one tuition online or private lessons in Devon and Cornwall.
If you would like a non-committal quote regarding commissioning a drawing or a painting or just more information about future projects, feel free to drop me a line. I consider commissions in all subjects.
2023 exhibitions:
Clare Hall, Cambridge University.
9th March - 27th April 2023
Transcendental Landscapes
A series of oils inspired by the Dyfi River and surrounding landscape of Mid-Wales.
Clare Hall
Herschel Road
Cambridge
CB3 9AL
https://www.clarehall.cam.ac.uk/events/jillswarbrickbanksexhib23/
The Charles Causley Festival Southgate ArchExhibition of work by five professional artists, inspired by the poetry and prose of Charles Causley CBE, FRSL.Dr. June Forster, Wayne Summers MA , Rachel Ricketts RBSA, Emma-Jayne Holmes BA, MA, Jill Swarbrick-Banks BA, MA
June 29th - July 2nd 2023, Launceston, Cornwall.
On Friday 30th June in the Town hall a commission: "Where Stone Runs Like Honey" inspired partly by the poem "Launceston Castle" by poet Anthony Vahni Capildeo ( the painting's title is actually a line from their poem ) was unveiled, during the Charles Causley Festival 2023.
Please support the festival in any shape or form to keep Charles Causley's heritage and beautiful poetry at the fore!
Thank you
Currently...
Working on a portrait and a landscape commission.
Photograph in black and white of J. S-B © Stu Vincent 2023
Photograph of J. S-B in the studio taken by Dave Swarbrick 2010