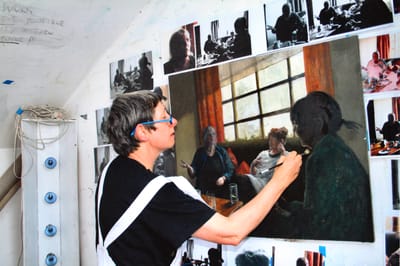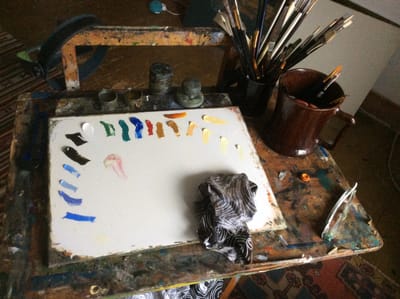 Professional Fine Art Painter since 1992
Lyrical AbstractionPortraitureGenré
Medium:
Oils (traditional practice)
Studio:
South West England
Born
August 1959 London
EducationBaccalaureate Degree
Fine Art PaintingAcademie Minerva. Groningen. The Netherlands. Graduated 1992
Master of Art
Post Graduate Degree Fine Art PaintingSchool of Art, University of Aberystwyth, Wales. Graduated 2019
(distinction).
Artist in ResidenceCoventry Cathedral 2012
The very first Artist in Residence to the Cathedral.
Commissioned to paint the portrait of
The Very Reverend John Irvine. Dean 2002 - 2012
I accomplished several projects including abstract oil paintings inspired by and in celebration of the 50th Jubilee consecration of the new Cathedral designed by Sir Basil Spence.
Ask away or even commission me!
I am usually contacted for enquiries to paint portraits. However I love to paint! So I work with clients on all sorts of projects whether that might be a landscape, a building or a free range commission to create a painting from a poem, a memory or piece of music. The more bizarre the better!
I work primarily in oil paint but of course, I am very happy to create drawings, pastels, etc.
My work to date...
Paintings (mostly) in private collections.
Also known for album cover/cd artwork.
Private Tutor
Fine Art Painting and Drawing, all genres : Portraiture, Landscape, Genre, Abstraction.
All levels.
One to one tuition online or private lessons in Devon and Cornwall.
If you would like a non-committal quote regarding commissioning a drawing or a painting or just more information about future projects, feel free to drop me a line. I consider commissions in all subjects.
I charge £15 an hour with a £15 non-refundable deposit for tuition.
For pieces such as a drawing or painting of: your house / family member / pet, etc., are individually priced after a discussion of what you would like and according to what medium is to be used...such as Oil paints, Pastels, Pen and Ink, etc., everything no matter how quirky considered!
Be assured, a quote is not an obligation.
I currently have an exhibition running at Clare Hall, Cambridge University.Transcendental LandscapesMarch 10th - April 27th 2023.Herschel RoadCambridgeCB3 9ALT +44 (0)1223 332360F +44 (0)1223 332333porters@clarehall.cam.ac.uk
https://www.clarehall.cam.ac.uk/events/jillswarbrickbanksexhib23/
Thanks very much
Jill
Photograph of Jill Swarbrick-Banks in the studio taken by Dave Swarbrick 2010