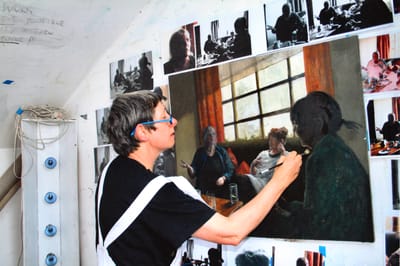 Professional Fine Art Painter since 1992
Lyrical AbstractionPortraitureGenré
Medium:
Oils (traditional practice)
Studio:
SouthWest England
Born
August 1959 London
EducationB.A
.
Degree
Fine Art PaintingAcademie Minerva. Groningen. The Netherlands. Grad: 1992
M.A
. Post Graduate Degree
Fine Art PaintingSchool of Art, University of Aberystwyth, Wales. Grad: 2019
(distinction).
Background
Although born in London I grew up in Oxshott, Surrey. My father was a jazz musician, military cartographer and author (
Arthur Banks
)
&
I spent much of my time watching him draw beautiful maps in his studio which was annexed to our house, so Dad was probably the catalyst for me to consider art as a possible career. His piano playing must have triggered something inside me as well because music is still a major love of my life.
In the late 1980s I emigrated to Groningen in the north of the Netherlands.
I enrolled at the Art Academy "Minerva" in Groningen to study Fine Art Painting gaining the dutch Diploma ( at the time equal to a B.A. degree ).
I repatriated back to the UK in 1998.
In 2012, I was appointed
Artist in Residence
to Coventry Cathedral for their 50th Jubilee Year. I produced a number of works as well as finishing my residency with painting the portrait of their Dean, the Right Reverend John Irvine. John was leaving after ten years of devoted service, the Cathedral Friends traditionally commission a portrait of the leaving Dean on such occasions to hang in the Provost's Vestry. My portrait of John hangs there alongside portraits of Deans from the past fifty years ( the new Cathedral standing shoulder to shoulder with the bombed ruins of the old building was designed by Basil Spence and consecrated in 1962 hence the jubilee ). It was an honour and a most enjoyable time professionally for me.
From 2017 - 2019 I studied at the School of Art, Aberystwyth University and graduated with a distinction.
I have always worked solely with oils, specialising in "lyrical" abstraction, portraiture and genré paintings.
This year I am slowing down my practice and only accepting occasional commissions.
If you have any interest in purchasing work from my back catalogue just drop me a line.
Thank you for your support and patronage over the years.
Photograph of Jill Swarbrick-Banks in the studio taken by Dave Swarbrick 2010